Ethan Moses is no stranger to building cameras. Over the years he has created a series of 4×5 handheld cameras, medium format cameras and 35mm panorama cameras, but for his latest creation he has decided to think big, really big. At the height of the pandemic, Moses set out to recreate Polaroid's iconic 20×24 camera, capable of producing images 20 inches wide and 24 inches high.
"Polaroid built the original 20×24 Polaroid cameras for demonstrations and for advertising smaller products," says Moses. But the camera was also popular with famous photographers and artists. The huge pieces of Polaroid film used by the likes of William Wegman, Andy Warhol, Chuck Close, Mary Ellen Mark and Elsa Dorfman ceased to exist in 2017, the same year John Reuter announced he was closing the 20× studio 24 in Manhattan. But that did not discourage Moses. His solution? Build a custom 20×24 camera that captures positive impressions directly onto a large sheet of photo paper.
In use, Moses loads the photo paper, makes an exposure, then dumps the chemistry directly into the film holder, allowing him to make the direct positive without the need for a darkroom. "I certainly didn't invent huge cameras, but I think I'm the first to invent a film holder that has a light deflector like a daylight developing tank so you can directly process in the film holder without a darkroom. Then, in a relatively uncontrolled environment, you can simply remove the back of the camera, lay it on a table, pour in a quart of chemistry, and shake it.
Last month, Moses traveled from his home in Albuquerque, New Mexico, to Brooklyn, New York, and teamed up with Brooklyn Film Camera's Kyle Depew to offer portrait sessions and workshops at Wyckoff Windows Studio. . The first two weekends sold out immediately, followed by an additional third weekend.
"In Albuquerque, if I do that, I have seven people showing up in my backyard and I know them all," Moses says. "But here it was really an amazing thing to see how many people showed up. People came from Seattle. One guy bailed out his wife for a day on her honeymoon to come to the shop. Someone one came from Minnesota.
Here, Moses talks to us about the process of building the camera and what it's like to film with it.
Where did the idea to build this 20×24 camera come from?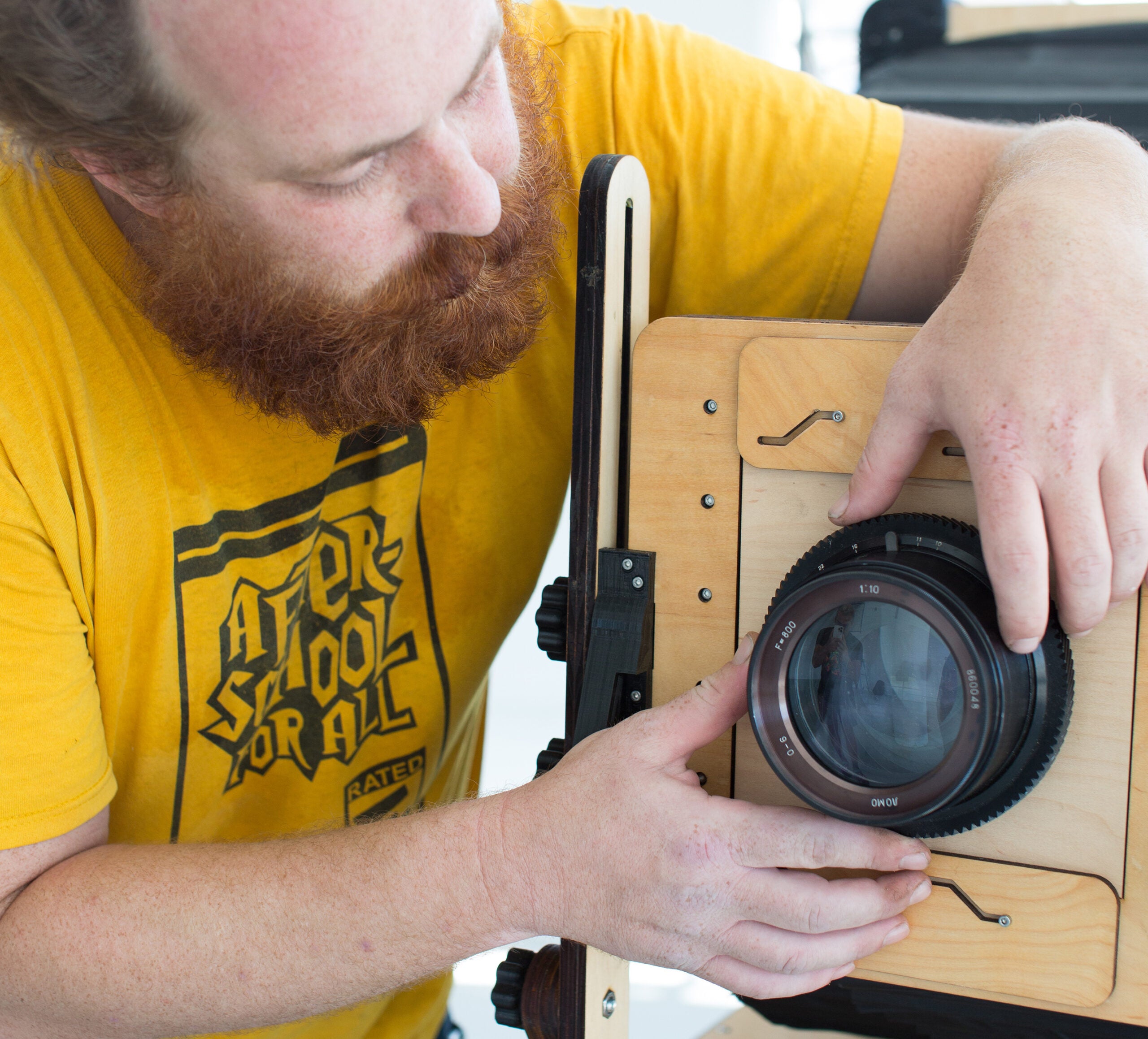 About 20 years ago I loved to read photo.net and the guy running it, Phillip Greenspun, his avatar was a 20×24 portrait done by Elsa Dorfman showing him with a big white dog. It was great. And it's a great regret in my life that I never spent the money and had my portrait taken by Elsa Dorfman while she was still alive. I've always had that in my head.
On the Homemade Camera podcast, we were talking about this and the challenges of making self-developed cameras, like the Afghan Camera. And so we challenged ourselves to start working on these self-developed cameras. And at some point we had worked on enough of these projects, perfecting the process, that I thought maybe we could use the knowledge to replicate the 20×24 Polaroid experience. Filming with a 20× camera 24 is an interesting process, but who wants a 20×24 negative?
When did the construction process start?
This is one of those cameras that I wanted to build because I wanted to use it and see what it could produce. And it turns out he takes portraits real pleasant. Anyway, during the pandemic, stuck in my garage, I bought a car-sized laser cutter. All of a sudden I could cut parts for this thing. For five months, I did nothing but draw, CAD, cut, glue and screw. And I think this current release is for the seventh iteration of the camera. Usually I'll build a bunch of cameras, starting with a prototype. I'll see what's not working, leave it on the table, and build a brand new one until I get it right.
But this thing is just too big. I was building one and I was like, 'Okay, I want to make this change', but then that would mean taking the camera apart. For a while I didn't have a working camera, I just didn't have the space.
What are some of the things you had to figure out while building it?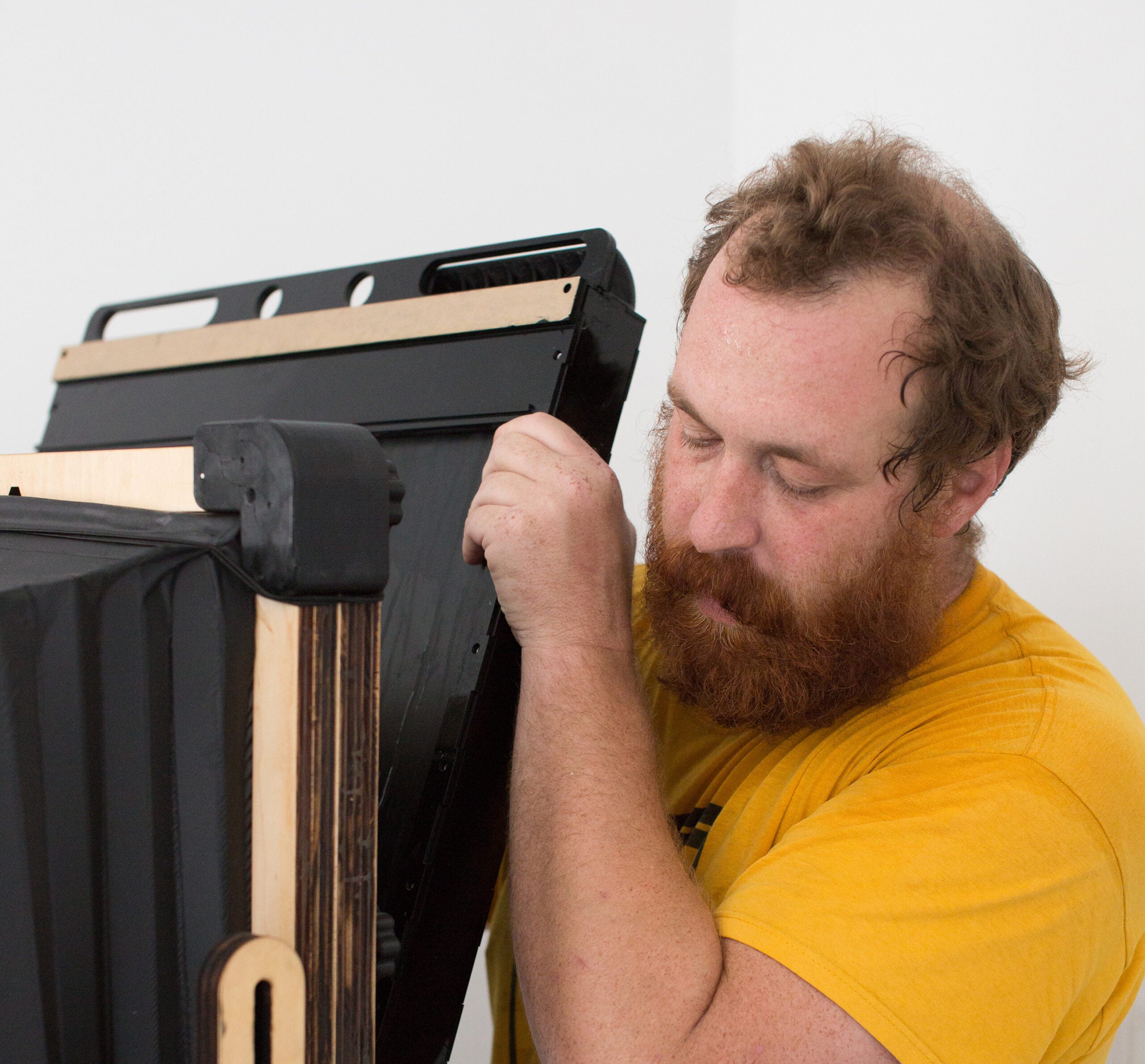 Oh my God, everything. The camera contains a bunch of different systems. It has a rail system, focus system, front and rear standard, and a collapsible popup system which should be quite stiff. The bellows each required repair. I have maybe 150 pages of hand drawings before all the CAD files, showing how well the rails work.
The real terrible was the bellows, however. I've built hundreds of 4×5 camera bellows. You just build them flat on a table. But when you lay this thing flat, it's 14 feet by 17 feet. My buddy Joe and I tried to build this, and it was like trying to do push-ups with one hand and spray glue with the other hand. None of us are in good shape, it's 100 degrees and we're lying on my driveway in Albuquerque. It turned into such a mess so quickly. I spent another week building this giant bellows-shaped obelisk. For six straight hours, I simply glued fabric and laser cut ribs, hundreds of them.
It was the first time the camera went out into the wild, how did people react during the portrait sessions?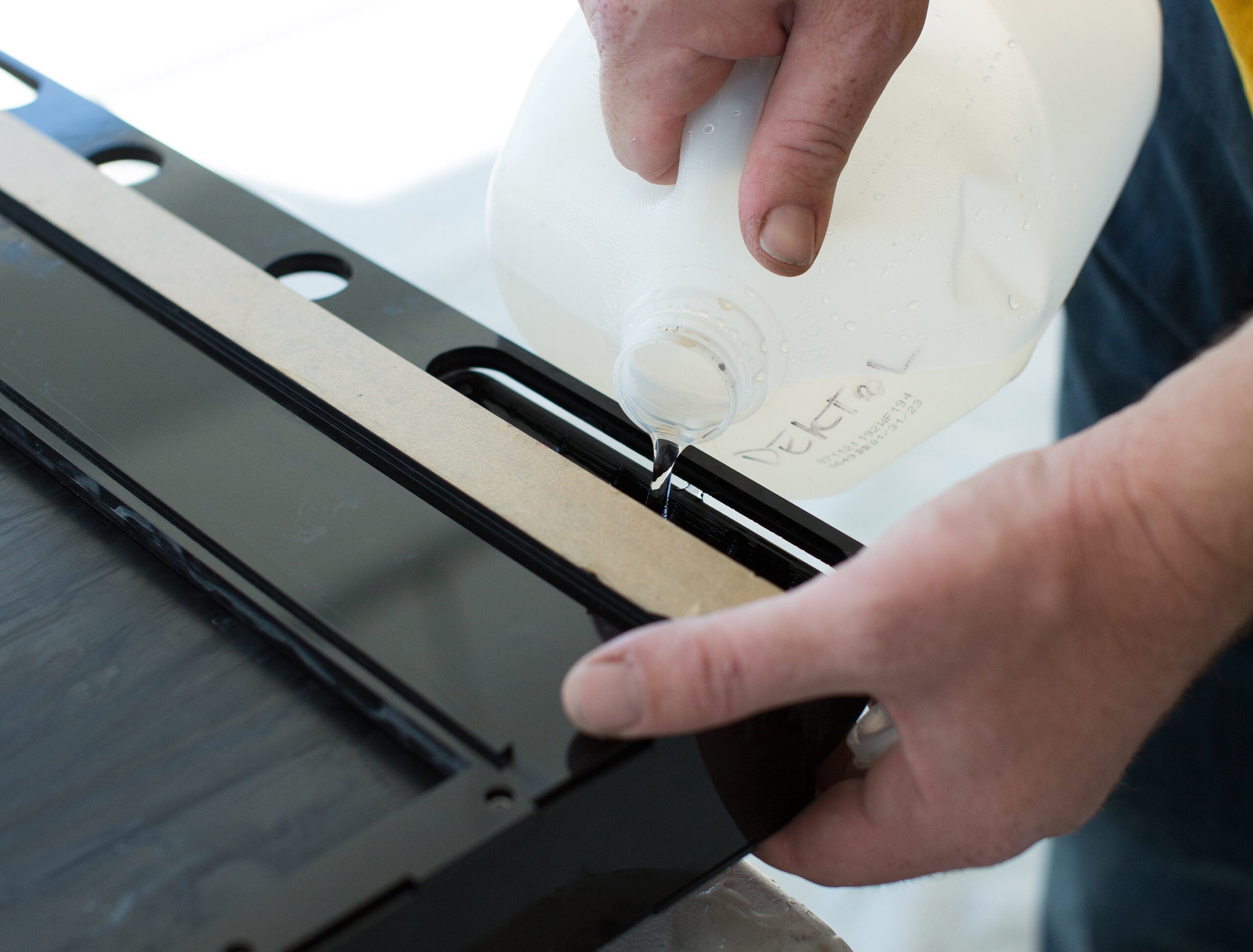 People have been great in it. It was really wild. I'm used to a life where no one is interested in what excites me. But here, I think people are more excited than me about the big camera, and I built it. I spent five months of my life building it. People like the magic trick, I think. This is new for us and for everyone. What we've found is every once in a while, it makes for really great images with a really unique look. The obvious thing to do is portraits, even a photo booth. You can do a lot of them, they're pretty fun. Everyone looks different and beautiful in their own way. And it's so well suited for portraits. It has a very shallow depth of field, so the subject has to be really still. It's really hard to operate in daylight, so strobe lights make things a lot easier.
What is your strobe setup with the camera?
I have these Speedotron heads and packs from the 90s. They were the most powerful of the movie era. This is what you would use to light up a basketball stadium. When I trigger a strobe, there's a ton of light that's poured through two heads. The exposure time ends up being around 1/60 of a second. I have yet to build a shutter for any of these huge lenses. What I did was just cap off the lens, dim the lights, then pop the lens off. I hold a filter gel pack on the lens just to compensate for the color since you don't have any intermediate steps like printing or scanning. And then I just pop the strobe, and it's basically the shutter rate.
What lenses do you use with the 20×24 camera?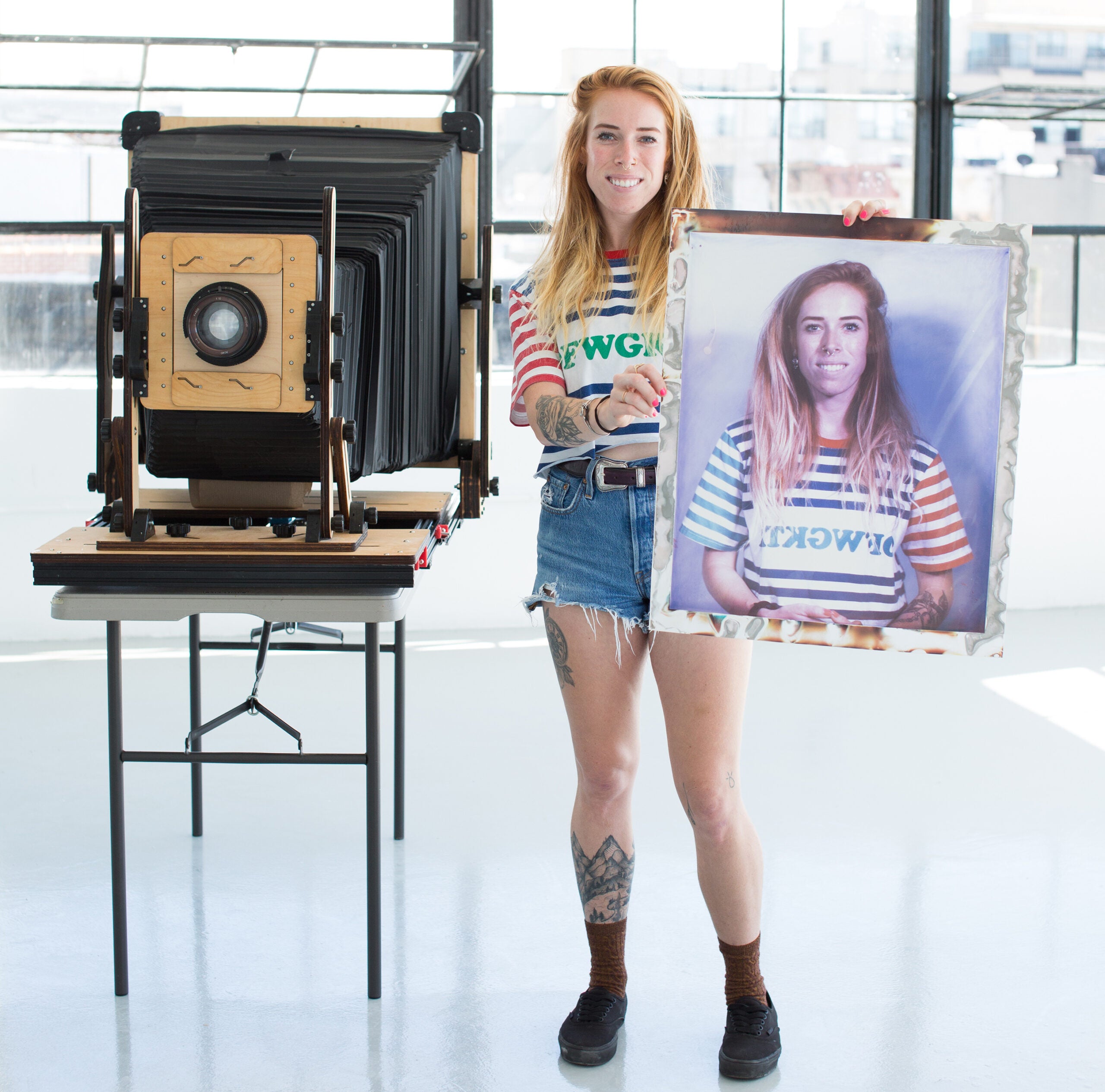 The one I really like is a Lomo process lens that I picked up in Russia on eBay years ago in anticipation of one day building a camera like this. The other one I have is a 600mm APO Nikkor. When I signed up with Kyle, I immediately ordered another process lens from Japan that would have us covered, just in case I dropped the Lomo lens. I didn't want to wait another three months or search for years on eBay for such a thing. They are rare and beautiful. They were designed for Xerox machines before scanners.
What's next for you and the 20×24 camera?
People dig it. I'll see where it goes. I may do other 20×24 workshops, but I need a month's sleep. When I take pictures with it, there are three people working. If I did that in Albuquerque, I wouldn't have the place. But even if I had the space, I wouldn't have anyone to take pictures with. I wouldn't have anyone to shake my trays. I wouldn't have anyone to load the film. I would have no one to greet my subjects. After New York, I first thought of going home and selling miniature versions of the camera. But taking photos with the large version is quite fun and many people prefer to have their portraits taken rather than buying camera parts or obscure cameras.
It's a different process than a Polaroid 20×24, but it's a similar product, it's great 2021 – it's analog, but it's also fast.
Ethan Moses is currently fundraising on Kickstarter to then bring his 20×24 camera to Los Angeles.