"Edo x Idol" IP Focuses on Idols in the "Neo Edo" World
---
Toei-Animation started streaming the anime "pilot movie" for its new IP sharedol Monday. Toei-AnimationThe new intellectual property research team PEROs (Prototyping and Experimental Research at Oizumi Studio) and the young producers of Sotsu produced the pilot project together.
The video features the song "SHA☆LA☆LA☆Sharakuse!!!" by the group Read:∀.
Atsutoshi Umezawa from Toei-Animation and Hideyuki Namba of Sotsu are credited for the planning, while Shintaro Fukase from Toei-Animation and Takayuki Funahashi of Sotsu are credited as main producers. Koki Higurashi de Sotsu is credited as a producer.
Yoshihiro Kanno (Sword Art Online: Alicization – War of the Underworld action animation director) directed the pilot film at Toei-Animation and Pictures of Dangun. Minami Yoshida drew the character designs and also served as the animation director. Kenji Matsumoto is credited for the art design and backgrounds. Setsu Nagata is recognized for color design, color coordinator and inspection. Ryotaro Nakano is credited for composition, with Nobuhiro Maki as editor.
The companies describe the IP with the theme "Edo x Idol". sharedol is a work that combines two ideas chosen from 15 proposed concepts. The story is set in the Kansei era in Edo period Japan, and Matsudaira Sadanobu's Kansei reforms restricted entertainment for common people. A group of girls with their own worries have thoughts that "burst like idols." These Edo period girls wear idol costumes in a "Neo Edo" world that combines the cultures of the Kansei and modern Reiwa eras.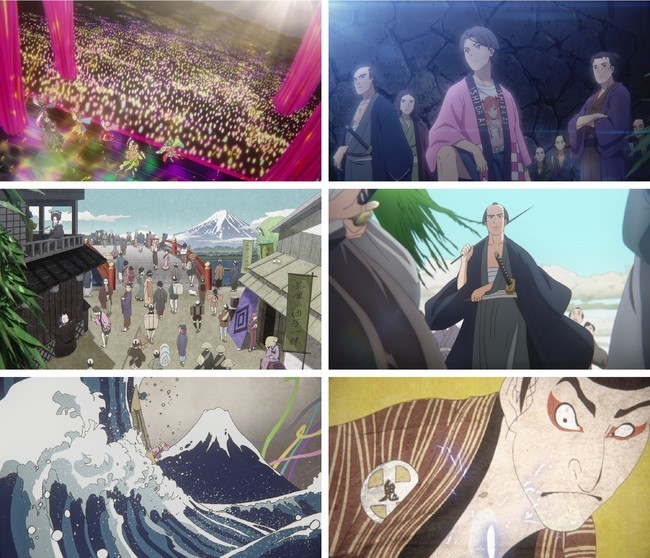 Official Project Twitter Account will reveal more details about the world and characters in the future. The staff will also consider fan reaction as it moves forward.
The project is being developed with the following in mind: changes in media and internet broadcasting, the need for human resource development for young producers who will lead the next generation, and the need for small start-ups and co -creation with fans in original IP.
Toei aired its full five-minute animated short URVAN to Youtube in February. Toei-AnimationPEROs produced the film. The short was originally supposed to be released in late January, but was delayed due to COVID-19.
URVAN won the silver award in the Technological Innovation category at the inaugural Kyoto Animonozukuri Awards in September.
Source: Email correspondence
---